Traditionally used in bathroom & kitchen floors, the hexagon shaped tile is no stranger to the design world and its use and applications date back to early ancient history. Now we can expect to see hexagons used in many new ways and incorporated in more modern designs specially in Los Angeles.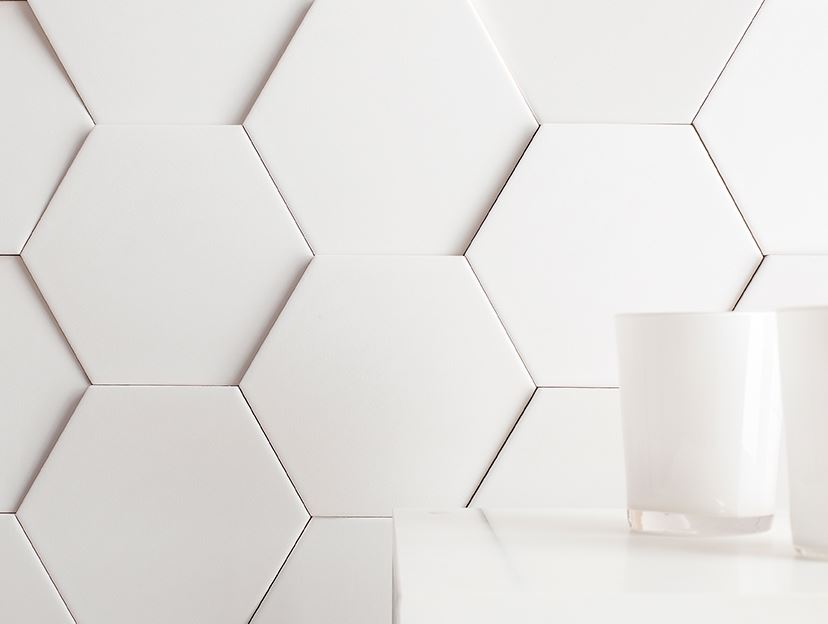 The geometrically appealing design covers floors or walls in a nearly flawless honeycomb effect. The look is uniform yet indulgent, traditional yet progressive adding just the right angles to your cherished spaces. Hexagons aren't limited to ceramic tile, they come in Glass too! Offered in a smaller, 2″ size, our glass hexagons are a great option for mosaics. Along with the pillowy soft appearance of glass, the hexagon creates a unique, geometric look with organic appeal.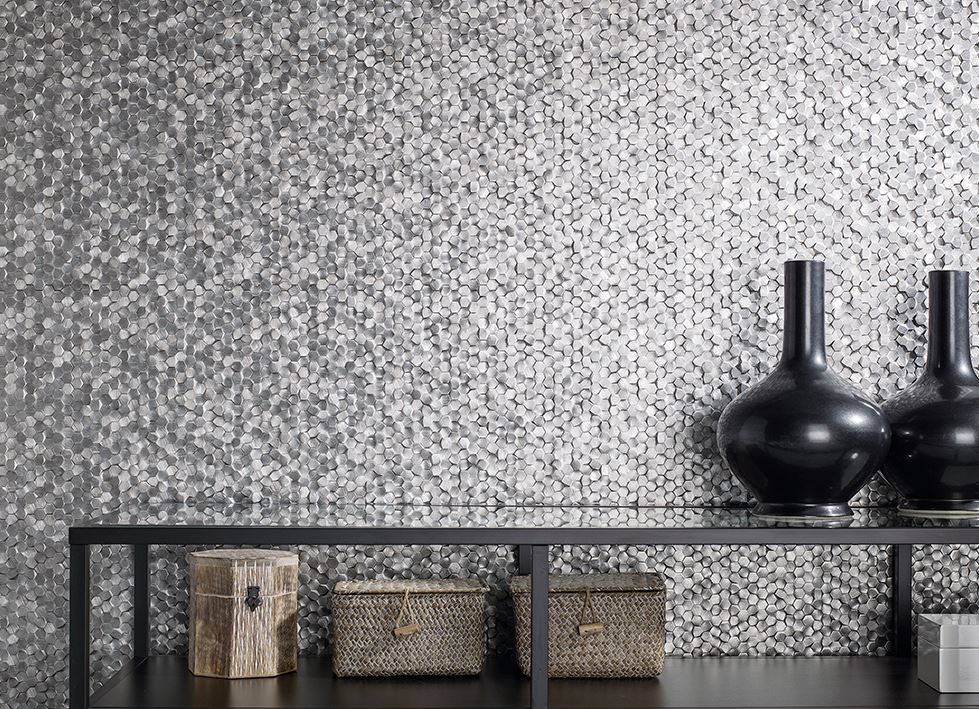 Now available in a variety of sizes and shades, hexagon shaped tiles can be used to transform the look of any room. With a variety of sizes and hundreds of colors to choose from, Hexagons offer literally endless possibilities when it comes to design. From traditional to contemporary, hexagons complement any style. With sizes ranging from 2″ to 12″ there is the perfect size for any project.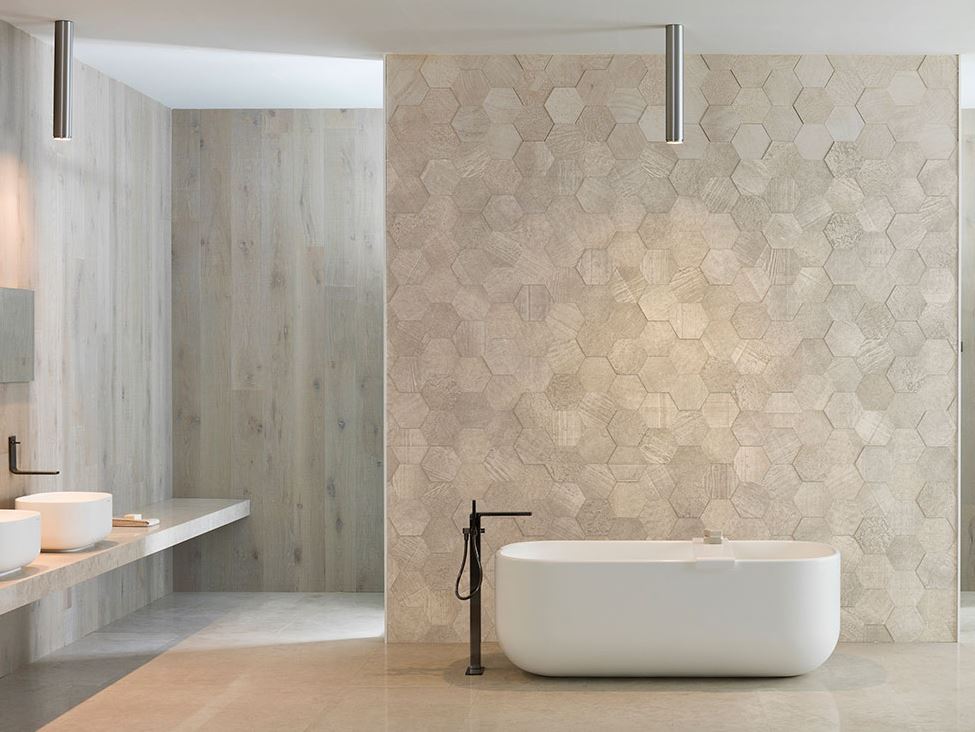 Cosmos Flooring carries amazing Porcelanosa Hexagon tiles which can be used in a multitude of ways with a multitude of products. You can create this classical pattern with flooring tile as well as walls; make them large scale or small – the choice is ultimately up to your own design aesthetic.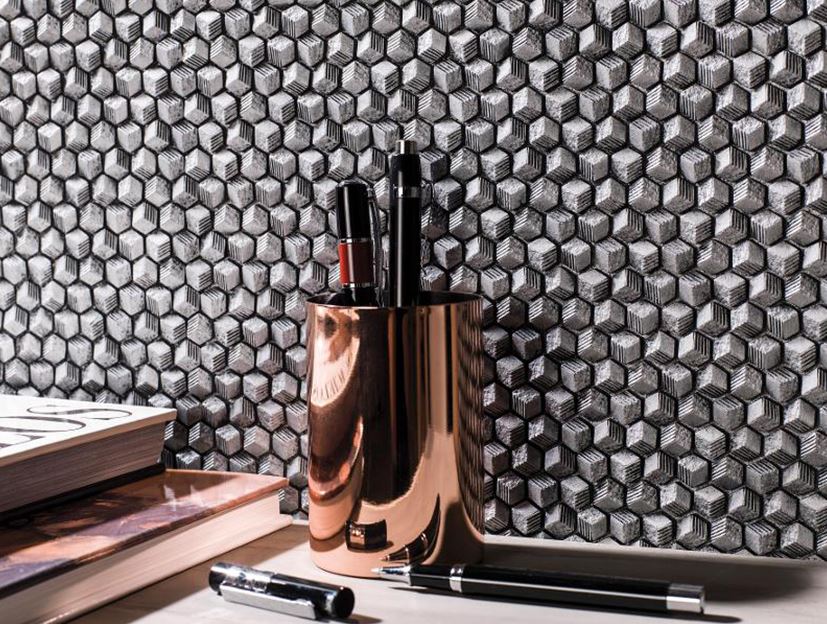 Hex 3d by Porcelanosa.
When it comes to floor application, a smaller hexagon shape is what has been traditionally used in the past. Porcelanosa's new, and innovative hexagon styles are more suitable for wall application and are available in a variety of sizes, shapes and textures. If you're feeling bold, you can try installing hexagon tiles throughout your room. If you want to start small, you can use them on an accent wall or a backsplash for an unexpected splash of personality. Most of Porcelanosa's tiles that feature hexagons consist of a full tile that is made up of a few rows of these repeating geometric shapes. However, some of Porcelanosa's newest hexagon tiles, including the Faces and Amsterdam collections, are available in individual pieces that can allow you to freely tessellate your area.
If you interested in more information on re-surfacing materials and a variety of Hexagon tiles for your latest project in Los Angeles contact Cosmos Flooring today at (323) 936-2180 tell them a bit about your project. COSMOS Flooring will create a free Project Estimate for you. There is no purchase required, no deposit, and no obligations of any kind. They use our experience and expertise to provide competitive custom estimates suitable for your needs, desires and budget. At Cosmos Flooring they hold customer satisfaction as their number one goal.
on Jun, 12, 2016

bathroom Tile & Flooring, Bathroom Tiles, Bathroom Tiles, Beverly Hills Tile Store, Concrete Tiles, Countertop directory, Flooring in Los Angeles, Flooring in Los Angeles, Flooring Store Los Angeles, Ideas, Kitchen Countertop Los Angeles, Kitchen Tile & Flooring, Kitchen Tile & Flooring, Los Angeles Flooring Directory, Los Angeles Tile Directory, Los Angeles Tile Stores, Stone & Countertops, Tile, Tile Flooring in Los Angeles, Tile Store on Pico Blvd, Tile Store on Pico Blvd, Uncategorized
Comments Off

on Trends to Watch in Los Angeles: Hexagon Tiles