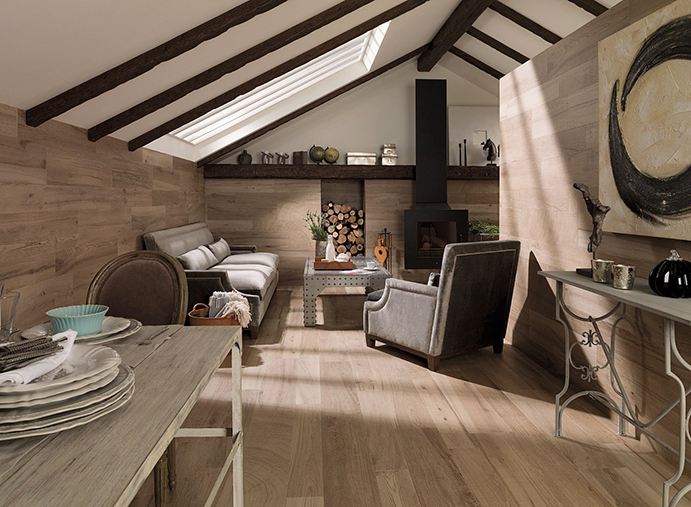 One of the biggest new trends in home decor over the past few years is Wood Grain Porcelain and Ceramic Tile or simply ceramic or porcelain tile that looks like wood. New technologies such as Ink Jet Printing allows tile manufacturers to achieve almost infinite design variability. With this new process, tile design and decoration is easier, less time consuming and less costly, giving manufacturers the chance to increase their range of products and designs while remaining competitive.
Wood Grain Porcelain and Ceramic Tile flooring offers you a tough, moisture-resistant, wear-resistant surface that gives you peace of mind as well as easy maintenance. Here's how:
A realistic wood floor pattern for maximum visual effect
Supreme moisture-resistance, dent-resistance, and scratch resistance
Can be installed in any part of your home, including basements, bathrooms, and laundry areas
Fire-resistance
Extremely sturdy, lasting for decades without fading
Ceramic tile and porcelain tiles that look like wood flooring adds tasteful decorative flavors to your interior, rivaled only by how immensely practical they are as flooring surfaces in every part of a residence or office.
easier to find in larger plank width generally cheaper and easier to install.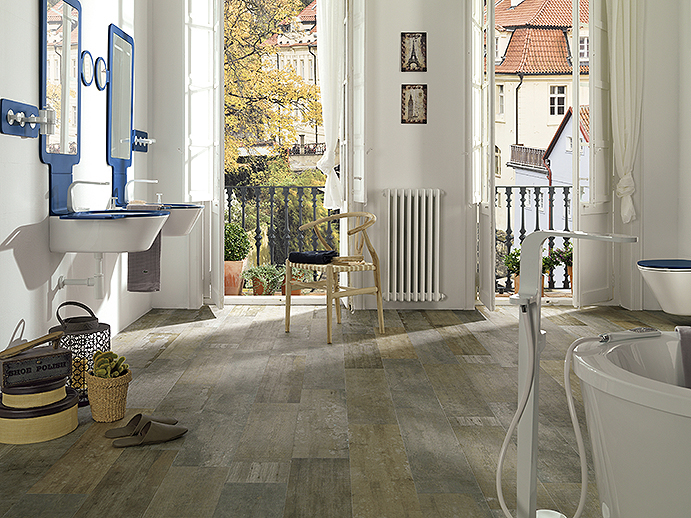 Porcelain tiles are man made and as such they are created with both aesthetics and durability in mind. Unlike wooden flooring, wooden effect tiles are completely water resistant, so spillages can be easily mopped up. This also means that unlike wood, where a glass of split red wine for example would stain the finish, porcelain tiles can be easily maintained and remain looking like new. The fit of the wood effect tiles is also extremely good and it being a tile means that no drafts can get through.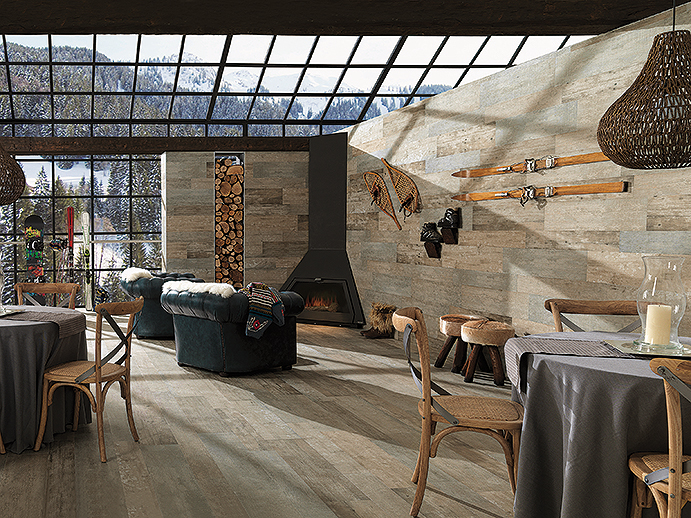 ceramic tiles have a very small rate of moisture absorption and come in various forms including glazed and unglazed. Wood Grain tiles either come in the form of ceramic and porcelain and they have various different shades. While most people prefer Wood look ceramic tile, porcelain is the best and a little more pricey than ceramic but very durable in terms of quality. With the various shades available like Tan wood look, Walnut wood look, Natural wood look,  many new designs and themes can be incorporated in the space for the best of patterns that consequently improve the appeal quotient of the space.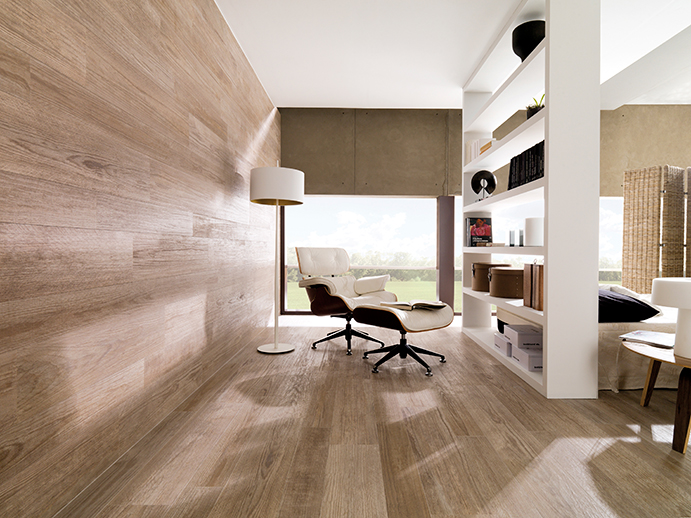 If you are in hunt for wide variety of porcelain or ceramic wood grain tile flooring in Los Angeles, companies such as Cosmos Flooring in the greater Los Angeles area can help you achieve your idea considering your desire and budget. At Cosmos Flooring they carry a great selection of porcelain tiles including Porcelanosa . You can contact Cosmos Flooring's store / showroom in Los Angeles at (323) 936-2180.
Images courtesy of Porcelanosa Inc and available for sale at Cosmos Flooring, LA's best Tile store.
on Oct, 18, 2014

bathroom Tile & Flooring, Bathroom Tiles, Bathroom Tiles, Beverly Hills Tile Store, Flooring in Los Angeles, Flooring in Los Angeles, Hardwood Floor Directory, Hardwood Flooring - West Hollywood, Hardwood Flooring Stores in Los Angeles, Ideas, Kitchen Tile & Flooring, Kitchen Tile & Flooring, Los Angeles Flooring Directory, Los Angeles harwood Floor Stores, Los Angeles Tile Stores, Tile, Tile Flooring in Los Angeles, Tile Store on Pico Blvd, Tile Store on Pico Blvd
Comments Off

on Wood Grain Porcelain and Ceramic Tile