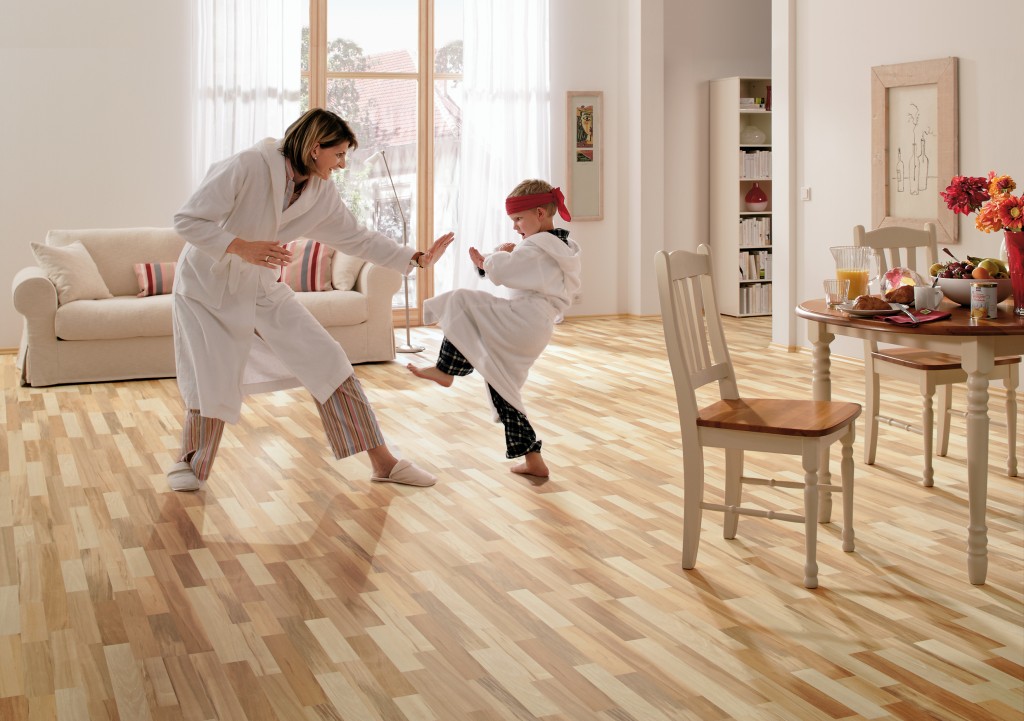 Are you looking to resurface your floors? Have you considered installing laminate floors in yourhome? Hardwood, Porcelain or natural tile may be the first types of flooring that comes to your mind, but you should not discount laminate flooring. Laminate's value, performance and ease of installation, offer some very convincing selling points. Here are few reasons that laminate flooring might just be an offer you can't refuse!
A. Easy Installation
Most laminate floors feature a "click-lock" design for a simple installation process which is to easily create a tight connection. In addition to reducing installation time, most high end laminates come with a lifetime locking system warranty. You can have immediate access to your finished floor with no waiting for glue to dry.
B. Durability and highly scratch resistant
Hardwood planks may dent and get scratched easily, your laminate flooring will be more resistant to dents and every day wear and tear. New technological improvements in the laminate industry with advanced finish protection will keep your floors looking newer for longer, while providing incredible surface defense. Thus, laminate flooring is great for high-traffic areas.
C. Easy to clean
Don't bother worrying about waxing the floor, all you need with your laminate floors is a broom/vacuum and a damp mop for spills. These days homeowners everywhere choose laminate floors to minimize clean-up time. And you should know that these laminates are not your parents laminates, companies are using the latest techniques to create the most realistic emulations of hardwood available today,  in addition their overlay designs prevents dirt and dust from getting trapped in between the plank's eased edges making for easier clean-up and floor maintenance.
D. Best bang for your buck
The technology used to create the stunning images that are printed on laminate planks improves every year, giving your home the look you want for much less. Not to mention, the glue-less locking system of many laminate floors completely eliminates the unnecessary expense of adhesives.
If you are in hunt for wide variety of laminate flooring in Los Angeles, companies such as Cosmos Flooring in the greater Los Angeles area can help you achieve your idea considering your desire and budget. At Cosmos Flooring they carry a great selection of laminate flooring. You can contact Cosmos Flooring's store / showroom in Los Angeles at (323) 936-2180.