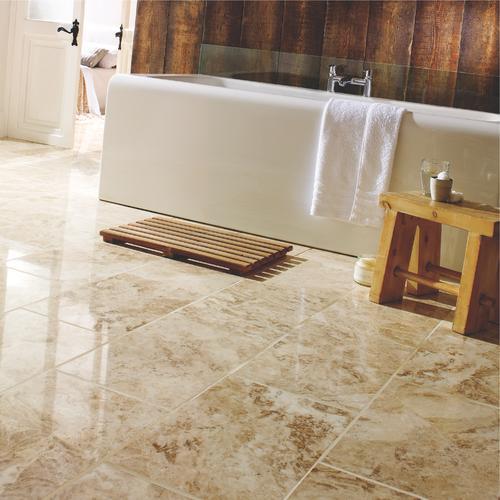 If you want to protect your stone floor from staining then you should seal it. But before doing so a key thing you should do is to test your stone for porosity. To do this, add a few drops of clean water to your stone floor and if they are absorbed, the stone is porous. Sealing stone floors gives you something called "reaction time" in that you have an opportunity to react and wipe up any spillages and any stain producing contaminants before they seep deeper into the stone. Anything that is water-based will be kept at the surface where they can be cleaned up a lot easier. You typically have spent a lot of money on a stone floor so using a relatively inexpensive (in comparison to the cost of the stone) sealer will help ensure you get the most our of this significant investment and help keep your floor looking fabulous for many years.
If you have a polished stone floor like marble, honed limestone or granite then we would recommend using something like Sealers Choice 15 Gold.
If you have a textured stone floor such as sandstone or rustic slate for example then we  recommend using something like Seal and Finish Low Sheen.
If you are working on or planning on replacing your old and run down floors with Stone Flooring  companies such as Cosmos Flooring can help you achieve your idea considering your desire and budget. At Cosmos Flooring they carry a great selection of natural stones to be used on floors. Contact Cosmos Flooring's store / showroom in Los Angeles Today at (323) 936-2180.